New web site (and business!) launched!
Aug 25, 2019
For some time I have been considering setting up a business for my photography, and I have finally done it! And at the same time I am launching this new web site to sell fine art prints of my work. After quite a lot of looking around, I chose Art Storefronts to create my web site. I really felt that their tools for choosing, previewing and buying prints were much nicer than other options that I found. Behind the scenes they handle all the printing and shipping via Bay Photo, who I have used for some time for doing my own prints that I have exhibited in various shows. And they give you lots of advice on marketing as well. If any of my photographer friends are interested in using them, please use this link to make an inquiry, and/or let them know that I sent you, and we will both get some additional time for free.
One cool feature that I really like is the "room preview", which lets you see what a print of a given size will look like in a real setting. This is what this looks like: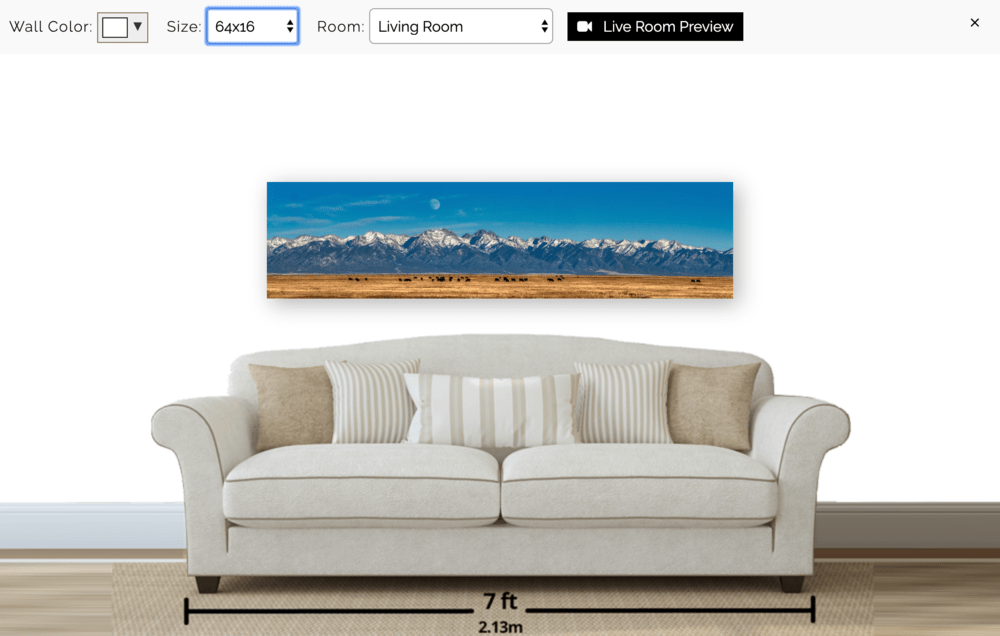 You can easily change the size, the wall color, and the room. And on the previous page to can change the type of print that you are creating. Options include prints on high quality photo paper that you can frame yourself, or you can do a variety of high quality finishes like metal prints (which is what I mainly create for my own use at home or at shows), canvases, wood prints and more. You can get more information on the various finishes by hovering over the relevant boxes on the photo page.
If you have any questions or comments on the web site or the print options available or anything else, please let me know!